Don and I have a short bike ride we enjoy-it is about 7 miles so it can be done in the early morning or evening in a little more than a half hour.
I went out this morning for a two fold reason: to see how much the water level had dropped and it was a lovely looking morning. Our route takes us down Hudson Run Road. Looking from the road at the water level I saw that while the level was still up it appeared to have receded already about 8 inches. I disturbed a heron in the process busily having its breakfast.  I trudged up the hill on Fairland Road and made a left at Vanderhoof Road. One of the many pleasures of this route is the view of the decent on this road.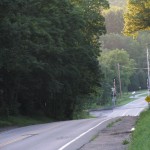 The roads I traveled were all clear. After turning from Vanderhoof unto Vanburen Rd I had to pause to enjoy the view by the Tuscarawas River.    .
The return to home is via Snyder Ave and I paused to check out Wolf Creek by the trail head.