The Summit Metro Parks popular Biking Spree began on June 1 and will continue through the end of August. Sign up to participate, ride 5 of the trails listed on the form, submit the completed form and you will receive a license plate for your bicycle (first time participants) and a reflective sticker (all participants).
You can register online. Upon registering you can download the participation form, forms are also available at Acme Fresh Market Stores.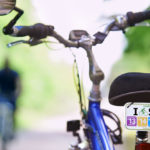 The trails include: The Bike & Hike, Freedom and the TowPath Trail. In addition there is a bikers choice. You can ride another section of one of the Summit Metro Parks multisurface trails.