A single tire lever with several design pluses: a grip to spare your knuckles, the top hook is used for tire removal, then flip the position and use the other end for tire installation.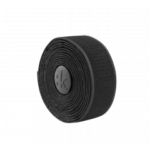 Fizik Classic Touch Endurance handlebar tape comes to you in a spiffy package that includes 2 rolls of padded tape, bar plugs, finishing tape and 2 extra tape strips. It is 2.5 mm of comfort and style. Black and white in stock.
The Continental Mountain King is the perfect trail ride companion – not stingy on grip, ideal for full-suspension trail bikes. Its snappy central knobs and grippy outer knobs means it offers maximum grip and excellent puncture resistance thanks to continuous ProTection. Pare the tire with Continental's  MTN 26 Downhill tube. Their Downhill tubes are especially strong and bulky, which make them a downhill riders favorite, since the tubes extra wall thickness effectively protects against punctures.