If you were out and about in Downtown Barberton this past Saturday morning you may have noticed a large group of cyclists. The event was well attended-we estimate over 70 people rode their bikes around Barberton on the 7th of September. The participants included city officials, staff members, and the Barberton Bicycle Patrol. Barberton Police officers directed traffic at the intersections. The city officials included Mayor William Judge, and Chief of Police Vince Morber. 
R-D Bike Shop was represented and Don started the day with a couple of emergency bicycle repairs.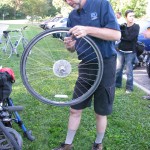 The approximate 10 mile ride was split into three stops. At each stop the riders discussed the roads used on that portion of the route. The first stop was at the former O.C. Barber Piggery on Robinson Avenue. The climb up the hill on Robinson Avenue was a bit of a challenge for some of the riders however Steve Kelleher gave an interesting talk about upcoming events at the Piggery, and the Hike and Bike Tour fliers from the Barberton Historical Society.  The second stop was at the site of the proposed trailhead at 2nd Street NW and Wooster Road Downtown. Mayor Judge spoke about the plans for the area and signage needs. The last stop was at the SE parking lot at 1st and Hopocan Ave, by the Lake Anna YMCA. The return route took the group down Second Street towards the Snyder Avenue Trailhead and lunch. Lunch was provided by ManorCare and CareSource.
Several riders stopped by the shop after the ride enthusiastically talking about their participation in the ride and the discussion opportunities brought by the ride.