A beautiful day to be outside- to head over to R-D Bike Shop to check out some bicycle accessories! We just received the Seymour Oceanweave Handlebar Bag made by Axiom.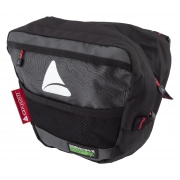 AXIOM
Seymour Oceanweave Bar Bag
Did you know that abandoned  fishing nets make up 10% of the ocean's pollution? Every bag in the Seymour series uses a new fabric which they call Oceanweave, that contributes to reducing the amount of plastic in our oceans. These bags are the world's only cycling bags to be made out of recycled fishing nets. If you are a sustainably-minded person who eats local, brings their own reusable shopping bag, skips the bottled water and rides a bicycle when ever possible to decrease their carbon footprint- this product is for you. Hopefully it will inspire others to become a part of a solution to this environmental crisis. Together we can make a difference. 
Below are additional facts about this bag:
Oceanweave 600D recycled fishnet polyester with waterproof polyurethane coating; red interior liner improves internal visibility
Lightweight strap and buckle mounting system
Zippered main compartment opens towards rider, zippered internal convenience pocket for keys/phone, etc. zippered exterior pocket for additional storage
Shoulder strap included
You can read about the Oceanweave process on Axioms website